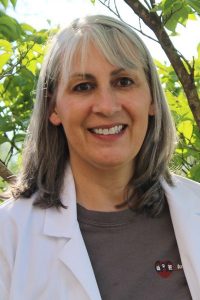 Dr. Elizabeth Paschall
Owner, Veterinarian
Dr. Paschall, owner of Camden Animal Clinic, is a 1991 graduate of Louisiana State University School of Veterinary Medicine. Dr. Paschall, originally from northeast Arkansas, practiced in the Memphis, TN area for over 6 years, before purchasing Camden Animal Clinic and moving to Benton County in 1997.
Dr. Paschall lives with her husband David, several cats, a dog and a Sun Conure. She is also active in many community organizations.
Brittany Hassell, DVM
Veterinarian
Dr. Brittany has lived in Camden since she was 10, but her love of animals goes back further! Ever since she was 5, she knew she wanted to be a vet. She attended UT Martin and graduated with a bachelor's degree in animal/veterinary science and animal health technology. She received her doctorate from The University of Tennessee College of Veterinary Medicine in 2021. Her fur babies include a beagle named Rosko and two kitties, Ramona and Rollo.
Kristen
Practice Manager
Kristen has been at CAC since 2015. She was born and raised in Paris, TN and graduated from Mississippi State University in 2018 with a degree in Animal and Dairy Sciences.
She began working in the veterinary industry as she always had a love for animals. She grew up with a dog at home who followed her everywhere. Kristen loves working with animals and seeing their wagging tails when we have helped them since they are so loving and quick to forgive. She knew she was in the right profession when our clients started remembering her name and genuinely thanked her for helping their pet.
Kristen's family is very dear to her heart and are her best friends. Outside of work, she enjoys watching the MSU Bulldogs football team, the St. Louis Cardinals baseball team, attending concerts, training her GSP, fishing, spending time with friends, and trying new foods.
Sylvia
Veterinary Receptionist
Since 1999 Sylvia has enjoyed meeting and greeting CAC clients and their four legged friends at the front desk. Her hard work is rewarded when she sees a pet that came in very sick or injured with a very concerned and worried client leaving with its tail wagging and owner smiling. Sylvia knows that happy healthy pets are what we are all about. Sylvia's family includes husband, Daniel, and daughter, Brianna, a cat and two dogs.
Donna
Veterinary Receptionist
Donna joined the CAC family in 2010. Originally from Connecticut, she and her husband, Cord, discovered and fell in love with Tennessee while in the trucking business. They are proud to have been Camden residents for 20 years. They have a large family of 6 children, 13 grandchildren, one great grandchild and Squiggles their dog.
Donna now includes the CAC employees, clients and patients in her already large family. It warms her heart to see our patients and follow their growth and development each year as they come in for their annual checkups. As an animal lover it hurts her to see a patient come in injured or ill, but she takes great pride and enjoyment in seeing them happy and healthy once again.

Kaylee
Veterinary Receptionist
Kaylee joined the Camden Animal Clinic in May of 2022. She is currently a student at Jackson State Community College. She loves all animals, but
especially her goldendoodle named Teddy. In her free time, she enjoys
crocheting, baking and collecting antiques.
Hannah
Veterinary Technician
Hannah joined CAC in February 2022 and has lived in Henry, Tennessee her whole life. She has always loved animals and knew she wanted to work with them during her senior year of high school.
She started out with large animal medicine but decided she loved small animal medicine even more during her internship at CAC. Hannah just finished school at the University of Tennessee at Martin with a major in Veterinary Science and Technology with a concentration in Veterinary Technology. She plans to take her VTNE in July.
In her free time, she loves to spend time with her family and fiancé, along with her three fur babies including her two dogs Duke and Lula, and cat Smokey.
Auria
Veterinary Technician
Auria has loved animals for as long as she can remember. Despite growing up in a no-pet household, Auria has love for all animals, though her favorites are horses and cats. She has two cats of her own, a polydactyl tuxedo cat named Bubba and a three-legged black cat named Alphie.
She was born in Paris, TN, and raised in Huntingdon, TN. She attended the University of Tennessee at Knoxville for one year in 2017 before moving back to a small-town environment that was more comfortable for her, which is how she chose the University of Tennessee at Martin, where she spent four years. She graduated from the UTM Vet-Tech Program in May 2022 and is due to graduate with a major in pre-veterinary sciences and a minor in veterinary technician sciences in December 2022. She began her internship at Camden Animal Clinic in June and later joined the CAC family in August, though she has been a client since 2016.
Heather
Certified Veterinary Assistant
Heather joined us at CAC in 2014 and is originally from Georgia. She came to Camden when she was 13 so her family could be closer to her grandparents. She has 1 year of college at UTM under her belt and a certification from the Animal Behavioral College.
Heather knew this was the right profession for her since she was 6! She had her own "practice" where she would help animals around her like worms, turtles, or anything she could get her hands on.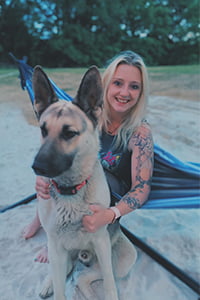 Jessica
Veterinary Assistant
Jess was born in New Jersey. She moved to Benton county when she was 12 years old. Jess is very family-oriented. She was raised with her 3 brothers by her late father and now has 3 children of her own Emma, Madelynn, and Daniel. She and her husband David spend their time working, racing, coaching, spending time with family, remodeling their home, and restoring their bus from the 70s! She has two German Shepherd dogs, Gallagher, and Calypso, a 3 legged fur baby she adopted as a stray from the clinic, LegGo The Cat, a beta fish, Blue, and two crawfish, Johnny and Rosie. She has loved animals for as long as she can remember and has rescued and re-homed several stray dogs. It's always been her dream to work with animals.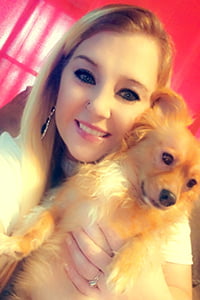 Desiree
Veterinary Assistant
Desiree, moved to Benton County in the 7th grade after moving around her whole life. She worked In the health care field for 9 years straight out of high school. She decided she needed more time with her family and her animals, so when the opportunity for employment at the Camden Animal Clinic became available she decided it was the perfect fit. She enjoys taking care of animals and learning new things everyday. She also enjoys being home with her two boys and spending time with them! She enjoys her time with her dog and her chinchilla.
Julie
Veterinary Assistant
Julie joined CAC in 2021 and is currently in Vet Tech school. She has always had a love for animals and has raised rabbits, goats, cats, dogs, hamsters, gerbils, and chickens. Besides her passion for animal care, she loves reading, movies, and spending time with friends and family.
Sam
Kennel Attendant
Sam joined Camden Animal Clinic in 2022 and is a lifelong animal enthusiast. Since childhood, Sam has always had a passion for pets and wildlife. This passion led to him graduating from Florida Southern College with a degree in Marine Biology. After briefly working in Massachusetts and Florida he and his wife, Marina, moved to Bruceton in hopes of starting a homestead together. He is an avid pet person, who lives with fish, reptiles, small mammals, and two cats.